Experience pools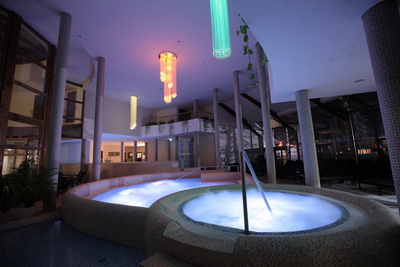 The special feature of our 34 m2 cocktail pool, with water circulation system and 36-38 °C water temperature is that it is right next to our cocktail bar which offers its services to our relaxing guests. The experience pool, the effervescent bath and the children's paddle pool nearby guarantee a carefree relaxation because parents can keep on eye on the apple of their eye. And if you feel like something invigorating, our Kneipp bath with alternating hot and cold plunge pool never fails to boost your blood circulation.
Spa wellness services
Our fitness hall has a friendly atmosphere. With the help of its cardio machines, it creates an ideal opportunity for all our guests who go for workout. During their stay here they can catch up with sweating off pounds in the gym and then go on to enjoy the treats of gastronomy without having it on their conscience.
In the salt chamber the salt particles sprayed into the air have a healing effect on the respiratory diseases and ease the symptoms of asthma, tracheitis, allergy and hay fever. The wellness salt chamber also has anti-inflammatory effects, therefore it is recommended for those who suffer from arthritis, skin problems, eczema or psoriasis. The high salt content exercises curative effects on blood pressure problems, sleeping disorders, kidneys, nervous system, hormone balance, blood detoxification and slowing the aging processes. The colours of the illuminated salt crystals exert curative and de-stressing effects. Exposed to the soothing and harmonising effects of the salt crystals over a long term, hyperactive children may experience a reduced level of concentration and sleeping disorders.
The steam bath is considered the ideal tool to cleanse and purify our body and soul. The combination of heat and high humidity has a benevolent sweating effect that humankind has taken advantage of for centuries.
The Finnish sauna characterised with air temperature from 80 to 100 °C and low humidity is famous for its detoxifying effect. Perspiration helps the body to get rid of toxins. As well as burning the calories, infra sauna warms up muscles and this way it alleviates pains and beefs up the immune system. Our sauna fleet is complete with tropical sensation showers evoking the atmosphere of wild rainforests as well as a plunge pool. A glass-walled lounging and sunbathing area of 105 m2 makes it possible for our guests to enjoy sunshine in the vicinity of pools and saunas in all seasons.