Adventures in 16 pools
Relaxation and fun for the whole family, in winter and summer!

Pools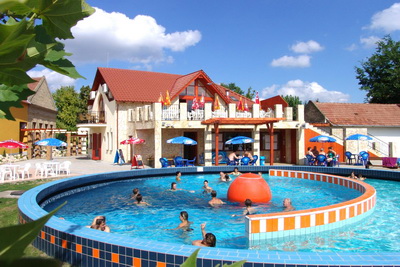 In summer there are 21 pools available to guests, while in winter they can use 16 pools (14 indoor and 2 outdoor). The huge selection of pools ensures that the spa is capable of catering for the needs of all visitors. The spa boasts the following pools: learner pool, pool with medicinal water, medical-wellness pool, medical pool with weight bath, children's paddling pool, plunge pool, medical and experience pool, wellness pool, swimming pool, fun and learner pool, children's paddling pool with slide, fun pool with slide and whirling corridor, events' pool with a wave orb, multilevel adventure and fun pool, paddling pool, baby paddling pool, Jacuzzi, relax thermal pool, Kneipp tread pool and a gallery Jacuzzi.
---
Sauna park
The "Sauna World" inaugurated in October 2010 features a thermal water relaxation pool, a Kneipp pool, an ice well (with mush-ice), a plunge pool and a sauna park consisting of 4 cabins to please the visitors. The "Sauna World" is complete with a steam bath, an aromatherapy sauna, an infra sauna, a Finnish sauna and a naturists' sauna complex including the outdoor Russian, Finnish, bio and infrared saunas.
---
Sunbathing terrace and lounging areas
On the gallery deck chairs and lounging area entice the visitors into putting their feet up and having a quiet rest between bathing and treatments and these facilities make a visit to the spa a whole day experience.