Recreation and fun for the whole family, winter and summer!
In summer, a real Mediterranean atmosphere awaits the guests of the spa. In addition to the 14 indoor pools, there are 7 outdoor pools.
From early spring to late autumn, the outdoor swimming pool with crystal clear water is open-air and can be used as a sports pool, while in winter there is a tented swimming pool. Family favourites include a sliding adventure pool, a children's paddling pool and an event pool with a wave ball, hot tubs and a cocktail bar. In addition to the pools, 15,000 m2 of landscaped greenery, a sun terrace, beach volleyball and a playground ensure a summer experience.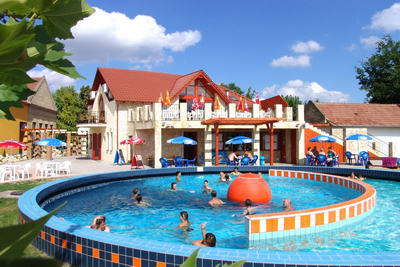 Beach pools, beach services:
wellness pool
swimming pool
outdoor adventure and learning pool
outdoor children's playground
outdoor adventure pool with slides
event pool
beach volleyball court
playground
sun loungers for hire
beach equipment hirewellness medence
---
Sauna park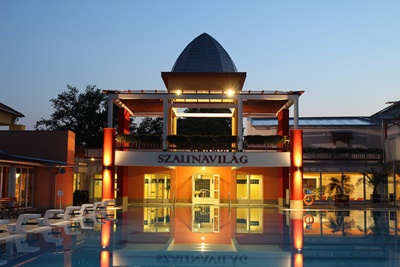 In the Sauna World, opened in October 2010, adults can enjoy a relaxation pool with thermal water, a Kneipp pool, an ice punch fountain, a splash pool and a sauna park with 4 cabins. The sauna world includes a steam bath, aromatherapy sauna, infra sauna, Finnish sauna and a naturist sauna block, which consists of Russian, Finnish, bio and infra saunas in the courtyard.
With the creation of the Silent Wellness Premium Spa Area, inaugurated in 2021, an exclusive service has been created that takes the sauna experience to a new level. With a capacity of 40 people, the Finnish pine sauna is one of the largest and most unique saunas in the Southern Great Plain. In addition to the Finnish saunas, the infrared sauna and the Russian sauna in the courtyard offer a unique, atmospheric sauna experience thanks to special LED lighting.
The Sauna World offers a wide range of sauna programmes to recharge your batteries.
---
Sun terrace, relaxation areas
In the gallery area, sun loungers and relaxation areas allow you to unwind and unwind between baths and treatments, making a visit to the spa a full-day activity.