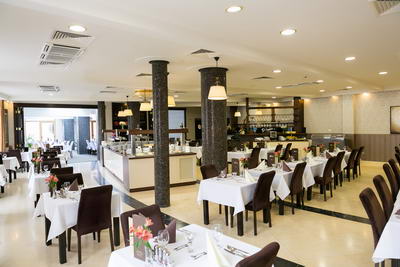 The rich wine list, renewed every year, adds to the enjoyment of the meal, matching the quality of the food. Our wines are selected from the cellars of the most famous Hungarian wine regions (Villány, Szekszárd, Eger, Tokaj, Balaton Highlands, etc.) and the dynamically developing vineyards of the lowland. Thanks to the abundant sunshine, the Kunság and lowland wines are of excellent quality, light, fresh, and harmonious in flavor.
Our 342 m2 restaurant not only serves half-board meals but can also be used as a venue for events. Our wellness hotel offers a high-quality, elegant dining option for corporate or family events. Our restaurant can accommodate 160-200 people depending on the layout.
Restaurant opening hours:
Breakfast is available from 7:00 to 10:00 am in our restaurant.
Dinner: from 18:00 to 21:00 in the hotel restaurant.
Breakfast:
Regardless of the number of guests or the season, we always serve our guests the freshest produce, which is constantly coming to our kitchen not only from large-scale suppliers but also from local farmers. For example, our homemade cow cheeses, seasonal vegetables, and fruit from small-scale producers in the Sandhills are always the freshest possible. From these products, we guarantee 2-3 egg dishes at every breakfast, several hot plates, a rich cold buffet, fresh vegetables, fruits, homemade yogurts, smoothies, and a wide selection of bakery products, from which everyone can enjoy unlimited quantities to suit their taste.
Lunch:
Our hotel's Atrium Snack Bar offers the opportunity to enjoy a light and cozy lunch or snack between breakfast and dinner.
Dinner:
As with breakfast, we offer our guests a wide selection of dinner options to satisfy all tastes. There are two cold buffet counters where you can choose from a variety of delicious starters, salads, and homemade pickles. Our hot dishes include soups, homemade dishes, a continuous presentation of Hungarian and international cuisine, and a rich selection of delicacies. Our desserts are all made in our workshop, and we offer at least 4-5 sweet delicacies a day to round off your meal.
At each meal, we provide our guests with pictogram food nameplates to help them understand the allergenic content of the food.
COCKTAIL BAR