Conference Hotel near Szeged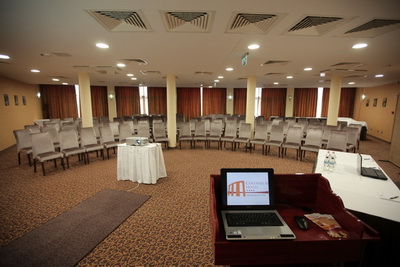 Colosseum Hotel, capable to meet all requirements, provides an elegant and ideal venue for conferences, company meetings, presentations, performances, family events and weddings. Our professional service in conjunction with the modern technical background, our diverse food and drink selections, wellness and spa sections guarantee that our events always turn out to be a great success.
Our conference room with a seating capacity for 160 people, roof terrace, restaurant dividable into separate sections, Winter Garden, Cigar Room and our wellness section providing a unique experience will render a full scale of services. In addition to these facilities, our restaurant, cocktail bar and grill terrace entice our guest with delicious flavours.
Event management with expertise
We know that the success of an event depends on many details. That's why our hotel pays special attention to the organisation of every conference, meeting or team-building programme.
Family and corporate events (company birthday party, Christmas party, etc.) are perfectly catered for at the Colosseum Hotel.
For training, creative training, workshops, business meetings, awards ceremonies, gala celebrations, press conferences, press events and exhibitions, we offer the right venue and a caring service.

Wi-fi,
Internet,
Projector,
Screen,
Flipchart,
Sound system,
CD, MP3, DVD player
---
Modern conference facilities
The conference room, which can comfortably accommodate 160 people, is a 210 sqm auditorium, which can be lit by natural light or darkened as required. The hallway in front of it is 36 sqm and can be used for coffee breaks.
The 342 sqm restaurant can be divided into two separate areas, and separate rooms such as the Cigar Room and the Lobby can also be used as exhibition areas. The wellness area can also be used for events.
Details of our conference room
Floor space
210 m2
Ceiling height
2,8 m
Length & width
14,75 m×20,5m/7,5m
Door heigth
2,1 m
Door width
2 m
Electrical socket
9 pcs
Internet, telephone connection
2
Build-in sound system connection
1
Equipment options for our conference room

Team building programme options
In-hotel program options:
Musical evening with musician
Music night with DJ and Karaoke night
Evening wellness cocktail party
Magic show (saloon show and micro magic)
Pálinka tasting with an expert
Wine tasting with an expert
Fruit wine tasting with wines from the Sápi Artisanal Manufactory
Team building activities led by an external companyZenés est zenésszel
External programme opportunities:
Programme organised in Ópusztaszeri National Historical Park
Thousand Year Park (Historical Model Park) programme
Horse-drawn carriage ride
Dragon boat ride on the Maty Lake
Segway tour, obstacle course
Sightseeing in Mórahalom or Szeged by Segway
Quad bike tour around Mórahalom
Golf driving range with barbecue
Hiking or cycling tour at the buffalo reserve in Lake NagyszéksósÓpusztaszeri Nemzeti Történeti Emlékparkba szervezett program
Contact
Krisztián Ladányi
Sales manager
Tel.: +36 30 432 8460
E-mail: sales@colosseumhotel.hu