In order to ensure that all members of your family have a great time during your stay, Colosseum Hotel provides the following services to children and their parents:
Paddling pool for babies,
Playing area with lots of toys,
High chairs,
Baby cots,
Baby potty, toilet reducer,
Baby bath,
Children menu,
Family suite, family room
We have excellent animators and favourable offers for families with children.
Accommodation and half-board are free for children up to the age of 3,99 staying in the parents' room on extra bed. We offer 50% discount off the price of accommodation and half-board for children aged between 4 and 12,99.
Summer activities in Colosseum Hotel
Children animation
A few times a week we are waiting for the youngest ones with fun crafts..
Horse-drawn carriage ride around town

Our guests can get to know Mórahalom while riding on a horse-drawn carriage around the city.
Kid friendly services in the Saint Elizabeth's Spa
The children's pools of the St. Elizabeth Mórahalom Spa are specially designed for the comfort of children and parents.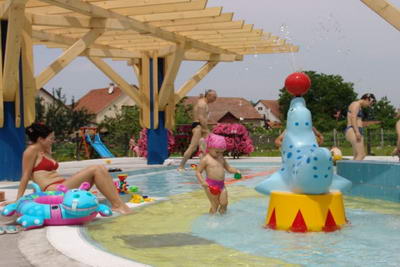 One of the main elements of the children's bath is the multi-level adventure pool, which is accessible only on islands, stairs and bridges, and has a full repository of experience elements - rolling corridor, waterfall wall, whirlpool benches, buzzers etc. - can be found in it.
The children's bath is made really exciting by the two indoor slides, one of which exits the building and then turns back into the water before splashing. On the anaconda slide, the brave ones can start from 11 meters high and slip 103 meters long. The smaller slide starts at 9 meters and is 76 meters long. For toddlers, we have an edge-free and barrier-free pool that is evenly deepened to 30 centimeters, while the baby pool is 0-15 centimeters. The smallest ones have the 148 cm elephant slide and built-in animal figures. Thanks to their placement, moms and dads will have a perfect view of their baby from the jacuzzi. The family-centered approach also features a playhouse, diaper changing room and kitchenette in the spa building.