Healing water in Mórahalom
Mórahalom is now a real spa town. Thermal water with healing effects, spa and wellness treatments, hotel, cultural events and gastronomic specialities await our guests. We offer an unforgettable experience for all ages. In the Szent Erzsébet Spa you can pay by SZÉP card and health insurance card. The Therapeutic Department also functions as a knee and shoulder centre, offering a range of special treatments for these problems. Internet access is also available in the spa to meet today's needs.
The telephone number of the medical reception is 62/580-042,
e-mail address: moravital@morahalom.hu
The healing water of Mórahalom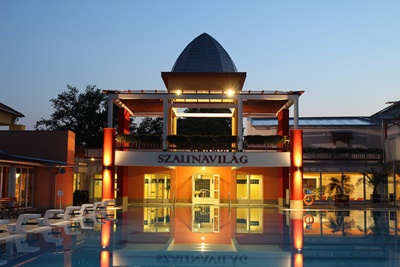 Tourists visiting Mórahalom today are amazed to learn how long the spa has been in operation in the town. Many people are surprised to learn that the locals have been trying to make use of the precious thermal water that comes up from the depths of the earth since the 1960s.
Known then as the Municipal Baths, the first step in the history of the facility was the 660 m deep thermal well drilled in 1960, which is still in operation today. The well draws its alkaline-hydrogen carbonate water from the sedimentary layers of the Pannonian basement. The 39.5°C mineral-rich, iodine-rich water of the B-13 well was officially certified as a medicinal water in 1999, but even before then it had helped thousands of patients to recover. It is used in baths to treat arthritic and inflammatory joint and spinal disorders, muscular rheumatism and gynaecological diseases. Clinical studies carried out during the thermal spa's designation as a spa spa have statistically proven the pronounced curative effect of the spa's waters on knee and shoulder disorders, making it the 'knee and shoulder centre' of the region. The warm water increases the metabolism of the joints, muscles and organs, speeds up the absorption of nutrients from the blood and increases the elimination of waste products from the cells. The minerals contained in thermal water are absorbed through the skin, thus exerting their specific and individual beneficial effects. The healing action of the water makes it much easier to move diseased joints due to its buoyancy.
The town of Mórahalom has been developing and expanding its health services for years. The spa was completely renewed in 2004 and thanks to the changes, it has been given a new name and a new image. However, the development of the Elisabeth Spa, which is the knee and shoulder centre of the region, also included the drilling of a new thermal well.
The water from the 1,300 m deep B-40 thermal well was certified as mineral water in 2007, and then underwent a long process of certification as a medicinal water, so that since 2009 it has been known as Árpád thermal water. The water from the new well, like the old well, has a significant mineral content but, thanks to its temperature of 67.5 °C, it also provides heating for the entire complex. The first step in the history of the facility, then known as the Municipal Baths, was the drilling of a 660 m deep thermal well (B-13) in 1960, which is still in operation today. The 39.5 oC thermal water was officially certified as a thermal spring in 1999 and the name "Elisabeth thermal spring" was added in 2010. This year, Mórahalom has gained two more thermal waters, the St. László and the Hunyadi Mátyás thermal waters.
The recommended bathing time is 30-45 minutes per session

Thermal water composition
The amount of dissolved constituents in mg of 1 litre of certified thermal water of the Mórahalom Spa is given in the table below:
| | | | |
| --- | --- | --- | --- |
| | | B-13 | B-40 |
| Potassium | K+ | 0,97 | 6 |
| Natrium | Na+ | 520 | 883 |
| Ammonium | NH4+ | 1,43 | 12,2 |
| Calcium | Ca2+ | 6,4 | 3,3 |
| Magnesium | Mg2+ | 2,8 | 2,8 |
| Iron | Fe2+ | 0,12 | 0,062 |
| Manganese | Mn2+ | nem mutatható ki | 0,005 |
| Lithium | Li+ | nem mutatható ki | 0,067 |
| Total cations: | | 532 | 907 |
| Nitrate | NO3 | 1,6 | <1 |
| Nitrite | NO2 | nem mutatható ki | <0,02 |
| Chloride | CL | 44 | 79,3 |
| Bromide | Br | 0,14 | 0,5 |
| Iodide | J | 0,13 | 0,2 |
| Fluoride | F | 1,3 | 4,1 |
| Sulphate | S O42- | <25 | <10 |
| Hydrogen carbonate | HCO3- | 1330 | 2288 |
| Sulphide | S2- | - | <0,1 |
| Total phosphate | PO | 0,67 | 0,75 |
| Total anions: | | 1378 | 374 |
| Metaboric acid | HBO2 | 9,2 | 12,2 |
| Methacetic acid | H2SiO3 | 30 | 55 |
| ree carbonic acid | CO2 | - | - |
| Dissolved oxygen | O2 | - | - |
| Total: | | 1949 | 3348 |
Source: Szent Erzsébet Spa
The benefits of medicinal water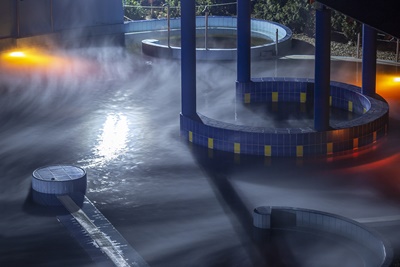 Non-acute phases of arthritis, degenerative joint changes (arthrosis), chronic inflammatory degenerative diseases of the spine, rehabilitation of diseases of the central nervous system, paralysis, chronic nerve pains, nerve inflammations (neuralgia, neuritis), chronic skin diseases (eczema, psoriasis, pruritus), rehabilitation of injuries, sports injuries, chronic gynaecological diseases (adnexitis, chr. ), infertility, chronic urological diseases (prostatitis chr.), chronic digestive diseases (gastritis).
Contra-indications of medicinal water
People with tumour disease, any acute inflammation of the body, severe untreated cardiovascular disease, severe central nervous system disease, any infectious disease, venous thrombosis, pregnancy.
Medicine
St. Elisabeth Spa offers a wide range of medical treatments. The spa offers more than thirty different treatments.
In addition to land and aquatic physiotherapy groups, individualised physiotherapy sessions are also available. Aquatic group gymnastics (e.g. aquatic spinal gymnastics, aquatic hip, neck, shoulder and knee gymnastics) are also available. On-land group gymnastics: spine, scoliosis, flatfoot, shoulder, neck, hip, knee, osteoporosis, incontinence and maternity.
Shaping
We all want a more ideal figure. In this area, we can achieve visible results in a short time, not only through gymnastics, but also through various body treatments. The spa offers body wraps, ultrasound body treatments and vacuum treatments.
Tub treatments
For changes, illnesses and last but not least for prevention, the spa also offers special treatments such as thermal baths, carbonic baths, underwater jet massage (tangentor), weight baths.