Sightseeing and culture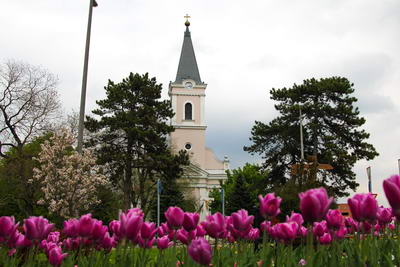 The Roman Catholic church is dedicated to St. Ladislaus (Szent László). Next to the church we can see the statue of the Guardian Angels (Őrzőangyalok szobra). Holy masses are held daily, while on Sundays there are three masses.
Opposite the church is the 1848 Revolution Memorial where people gather every March 15 to commemorate the heroes of the Hungarian nation.
The First World War Memorial was erected in 1927 according to the design by Gyula Bethlen, sculptor.
The Second World War Memorial, which also commemorates the 1956 Revolution, was made by Mihály Fritz, a sculptor from Szeged.
St. Ladislaus Park is also adorned with the Millennium Well made from marble by Klára Tóbiás. The well features enamel pictures of the Saints from the Árpád dynasty.
"The Male Head" by woodcarver Ferenc Polyák stands deep in the park, close to the spa.
In front of the elementary school, we can see the bust of Ferenc Móra, a novelist, journalist and museologist, as well as the Teachers' Tree.
The memorial wooden cross (kopjafás kereszt) and the town gates were created by István Nagy, a woodcarver.
Outside Aranyszöm Community House stands the statue of Kunó Klebelsberg made by the sculptor Márton Kalmár from Szeged to commemorate the great Minister of Culture (1922–1931).
In front of the Spa we can see the Elisabeth Statue made by Sándor Kligl sculptor. The statue was erected to the eternal memory of women and the vivifying water.