Spring renewal
As nature slowly awakens from its winter slumber, let us ourselves wish for renewal within and without. It's not just good for our mood if we put time and energy into it, but also for our health.
Renewal of body and soul
Let's give our skin and hair a turbo boost!
Our hotel's beauty department has a great team of beauticians, hairdressers and manicurists to freshen up your look.
For more information about the services available and to book an appointment, click here.
Start your inner renewal by reviewing your eating habits! Let's review what foods and ingredients are not good for us, try new things, experiment with new flavours!
In the selection of our gastronomic offer, we have tried to include local specialities in our selection of food and wine. In addition, we offer great favourites of the old days, delicacies from reform cuisine and a wide range of international flavours. When sourcing ingredients, we give preference to high quality fresh products from local producers.
Let's not forget our mental and spiritual health. Let's get enough rest, take time to relax and spend time with activities and people that make us happy.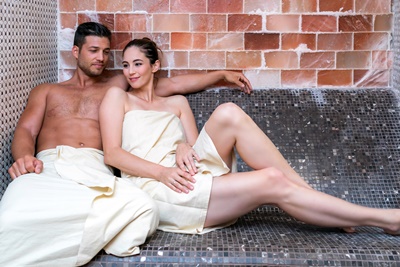 Our spa & wellness world offers you the opportunity to recharge and renew your body and soul, where you can get rid of the traces of everyday stress. The feeling of relaxation you crave in your everyday life can be fully realized when you use our pools and saunas. The enclosed but glass-walled sunbathing and relaxation area provides a close-to-nature experience. Our sauna park with Finnish and infrared saunas, steam cabin and salt chamber will help you to fully regenerate. The splash pool, the tropical experience shower and the jacuzzi are not to be missed. Two massage rooms are available to complete the relaxation experience.
Our well-equipped fitness room with cardio machines offers the possibility to exercise.
To further enhance the wellness experience, we offer our guests free access to the Szt. Erzébet Mórahalmi Spa, located right next to the hotel, where a wide range of pool and sauna services, in addition to the unique composition of the medicinal water, ensure an unforgettable wellness experience.