Event organisation
We are aware that the success of an event depends on many details. Therefore our hotel pays a special attention to implementing each conference, meeting or team building programme. Hotel Colosseum is an ideal venue for staging family and corporate events (corporate jubilee party, Christmas party, etc). If you have trainings, creative trainings, workshops, business meetings, award ceremonies, gala events, press conferences, press events or exhibitions to hold, just turn to us. In our hotel you will find the ideal venue for your event as well as a professional staff rendering quality services.
Our free technical tools for the success of your event:
WiFi,
Internet,
Projector,
Projection screen,
Flipchart,
Amplifying system,
CD, MP3 and DVD players
---
Conference venues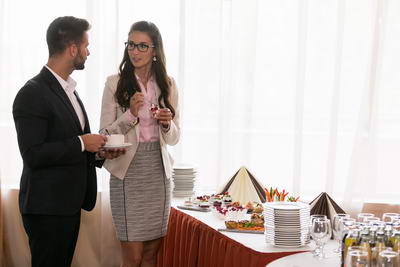 The conference room, which comfortably seats 160 people, is a 210 sqm lecturer lit by natural light or can be dimmed on demand. The corridor in front of it is 36 sqm, where it is possible to take coffee breaks. You can make your event unique on the roof terrace with a beautiful view. The 342 sqm area of the restaurant can be chosen for two separate parts on request, and our special rooms, such as the Cigar Room and the lobby, are even suitable as an exhibition area. The wellness area is also available for events.
Aranyszöm Community Centre is found right next door to the hotel. With its theatre hall of 300 person capacity, outdoor site of 200 person capacity (a site for tents), banquet rooms and provision of services, it offers a quality location for events attended by considerable number of people. Pooling their resources, the places of accommodation in the town are happy to welcome the attendants of these large events. Providing catering and services to them will be taken care of by the professional team of Hotel Colosseum.
| | |
| --- | --- |
| Area | 210 m2 |
| Inner height | 2,8 m |
| Length and width | 14,75 m×20,5m/7,5m |
| Door height | 2,1 m |
| Door width | 2 m |
| Electric plugs | 9 |
| Internet and telephone connection | 2 |
| Built-in sound system connection | 1 |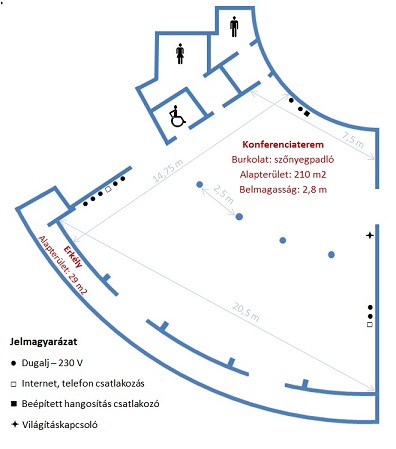 EQUIPMENT POSSIBILITIES OF OUR CONFERENCE ROOM:

TEAM BUILDING PROGRAM OPPORTUNITIES:
Indoor programmes:
Musical evening with musician
Musical evening with DJ and Karaokee evening
Evening wellness with cocktail
Magician show (salon show and micromagic)
Pálinka tasting with an expert
Tasting of Great Plain wines with an expert
Fruit wine tasting from the wines of the Sápi Handicraft Manufactory
Team building program opportunities led by an external company
Outdoor programmes:
Visit to Ópusztaszer National Historical Memorial Park
Program organized by Mini Hungary Makett Park
Horse carriage
Dragon boating on the Maty River
Segway tour, obstacle course
Sightseeing in Mórahalom or Szeged with Segway
Quad tour around Mórahalom
Use of Golf Driving Range in conjunction with barbecue
Hiking or cycling tour at the Nagyszéksós Lake Buffalo Reserve
CONTACT:
Krisztián Ladányi
Sales manager
Tel.: +36 30 432 8460
E-mail: sales@colosseumhotel.hu