Event organisation
We are aware that the success of an event depends on many details. Therefore our hotel pays a special attention to implementing each conference, meeting or team building programme. Hotel Colosseum is an ideal venue for staging family and corporate events (corporate jubilee party, Christmas party, etc). If you have trainings, creative trainings, workshops, business meetings, award ceremonies, gala events, press conferences, press events or exhibitions to hold, just turn to us. In our hotel you will find the ideal venue for your event as well as a professional staff rendering quality services. We provide you free of charge all the technical equipment that you need to implement your event successfully.
Our technical arsenal includes
WiFi,
Internet,
Projector,
Projection screen,
Flipchart,
Amplifying system,
CD, MP3 and DVD.
---
Conference venues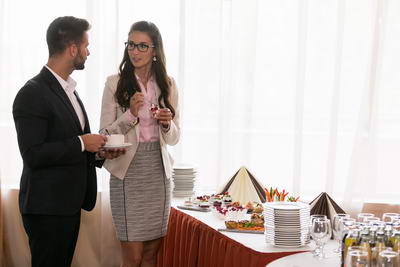 Conferences can be held either in the conference room illuminated by natural light, a perfect choice for 160 guests or in the 210 m2 lecture hall which can be properly darkened as requested. The passage outside it is of 36 m2, a possible location for coffee breaks, but we can make these breaks very special if we hold them on the roof terrace with a beautiful view. In line with needs, the 342 m2 restaurant can be divided in 2 separate parts. Our banquet rooms like the Cigar Room and lobby are suitable for exhibitions as well. The wellness section can also be used for the purpose of events.
Aranyszöm Community Centre is found right next door to the hotel. With its theatre hall of 300 person capacity, outdoor site of 200 person capacity (a site for tents), banquet rooms and provision of services, it offers a quality location for events attended by considerable number of people. Pooling their resources, the places of accommodation in the town are happy to welcome the attendants of these large events. Providing catering and services to them will be taken care of by the professional team of Hotel Colosseum.