MASSAGE OFFERS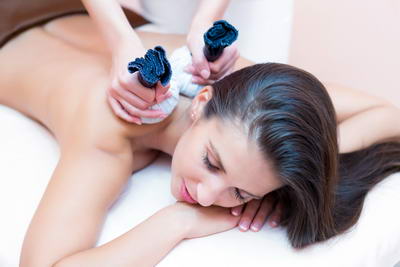 Medical massage
Massage is one of the most ancient methods to prevent and cure illnesses. In case of locomotor disorders, medicinal treatment also happens with these moves during curative massages too. The masseuse helps to ease muscle knots and loosen tied and stiff muscles with a special technique. Recommended for guests doing seated job or in need of a strong massage.
Treatment time: 25 minutes 15 €
50 minutes 27 €
Classic massage
Moderately strong massage with moves of the Swedish massage. The areas massaged with the western technique, metabolism of the cells improves, blood and lymph circulation quickens, and tightened, spastic muscles loosen up. Tight, stiff muscles loosen up and regenerate. Recommended as a first-time massage for guests prefering lighter treatment.
Treatment time: 25 minutes 14 €
50 minutes 25 €
Aromatherapy
Already in ancient cultures it was early recognised that natural herbal essential oils are not only remedies for physical pain but also have beneficial effects on the state of mind. Herbal essential oils are made from herbs and exclusively from natural ingredients. The health benefits of essential oils extend to various skin problems, the mental state and also suitable for relaxation and freshen-up.
Cocoa butter chocolate dream massage
Treatment with cream containing cocoa butter. Softens and hydrates the skin, making it silky, smooth and flexible. The effect of chocolate on the endorphin production can be sensed through the skin too, so not only the body, but the soul becomes regenerated as well.
Treatment time: 25 minutes 15 €
50 minutes 27 €
Vanilla-jasmine massage
Sweetish scented aroma massage. The silk-protein in the massage cream helps regulating the moisture content of the skin and increases its flexibility. Contains jasmine oil, which is known as "king of the oils." Thanks to its vanilla content, it has a stress resolving effect while calming, hydrating and renewing the skin.
Treatment time: 25 minutes 14 €
50 minutes 25 €
Coconut magic massage
Skin-softening, nourishing massage with aromatherapic effect and a heady coconut scent. Helps relaxation and recreation, creates harmony. Nourishing, fatty cream with coconut butter and vitamin E. Recommended for sensitive skin too.
Treatment time: 25 minutes 14 €
50 minutes 25 €
Tropical massage
Body treatment with massage cream containing pineapple and Bajan cherry extract. Tightens and revitalizes dry skin or aging skin. Rich in vitamin E and C, hence having a refreshing and invigorating effect. Flexing, efficient fat-burner and skin tighter, thus being a great supplemental of the fight against cellulite.
Treatment time: 25 minutes 14 €
50 minutes 25 €
Dynamism aroma massage
The collective effect of peppermint and rosemary volatile oil provides refreshment for demanded muscles in this treatment with Swedish massage technique. The tonic effect of peppermint eases muscle pain, soothes and cools down sunburnt skin. Rosemary is stimulates blood circulation, reduces pain and swelling of arthritis, releases muscle spasms, good for sprained joints and wounds.
Treatment time: 25 minutes 14 €
50 minutes 25 €
Exotic fruity aroma massage
We apply mango or sweet maracuja essential oils during the treatment of Swedish technique.
• Mango massage oil with argan oil: helps skin firmness and pH balance, thus has anti-aging effect. Softens skin as a result of its argan oil and Vitamin E content.
• Sweet maracuja massage oil: this oil with especially sweet, fresh fragrance contributes to full relaxation during the aromatherapy treatment.
Treatment time: 25 minutes 14 €
50 minutes 25 €
Grapeseed-oil aroma massage
One of the most natural balms for health and beauty is grape. Imbibing its scent has a positive effect on the soul too. It is especially rich in vitamin E, which has an anti-inflammation effect. It is able to regenerate the collagen in the tissues, making your skin more flexible.
Treatment time: 25 minutes 14 €
50 minutes 25 €
Relax massage
During this treatment with Swedish massage technique, lavender volatile oil is used to ease muscle pain and reduce muscle strain. It calms the inflamed skin. Mood improving treatment facilitating relaxing sleep, relieving tension and moodiness. Excellent choice in case of restlessness and moderate sleeping disorder. Also suitable for guests, whom strong massages are not recommended due to medical reasons, such as osteoporosis, secondary varicose veins etc.
Treatment time: 25 minutes 14 €
50 minutes 25 €
Refreshing massage
Haven't found the fragrance you like in our massage oil variety? Pick one from the refreshing LEMON, stress reliever ORANGE, cleansing SPEARMINT or CEDAR with woody traits recommended for men, too. The chosen volatile oil will be mixed with aloe vera massage oil. Choose light, medium or medical intensity of this massage. Not recommended for sensitive skin.
Treatment time: 25 minutes 15 €
50 minutes 27 €
OTHER MASSAGE OFFERS
Relaxing face and head massage
We massage the face without cream from forehead to mentum with gentle, caressing and squeezing moves, moving on with the ears and a scalp treatment. We partake in a perfect relaxation during the massage, where our thoughts and feelings can settle. This massage is available during pregnancy, too.
Treatment time: 20 minutes 12 €
Sole massage
The refreshing sole massage is suitable for regeneration and relaxation. It improves your mood and blood circulation when feeling tired and depressed. After the treatment you can get rid of those huge weights on your shoulder, and you will walk with light, easy steps again.
Treatment time: 20 minutes 12 €
Massage for children
Children deserve the care, as well. Children between 8-12 are welcome for some freshening experience.
Treatment time: 20 minutes 12 €